The only Slovenian monthly journal for money and banking, Bančni vestnik, is a professional journal specialised in publishing articles on banking and finance subjects. It has been published regularly since 1951.  It is indexed in the renowned electronic bibliography of the American Economic Association EconLit. The electronic bibliography is available at http://www.econlit.org/. An international issue of the magazine is published in English every November. Free downloads are available here.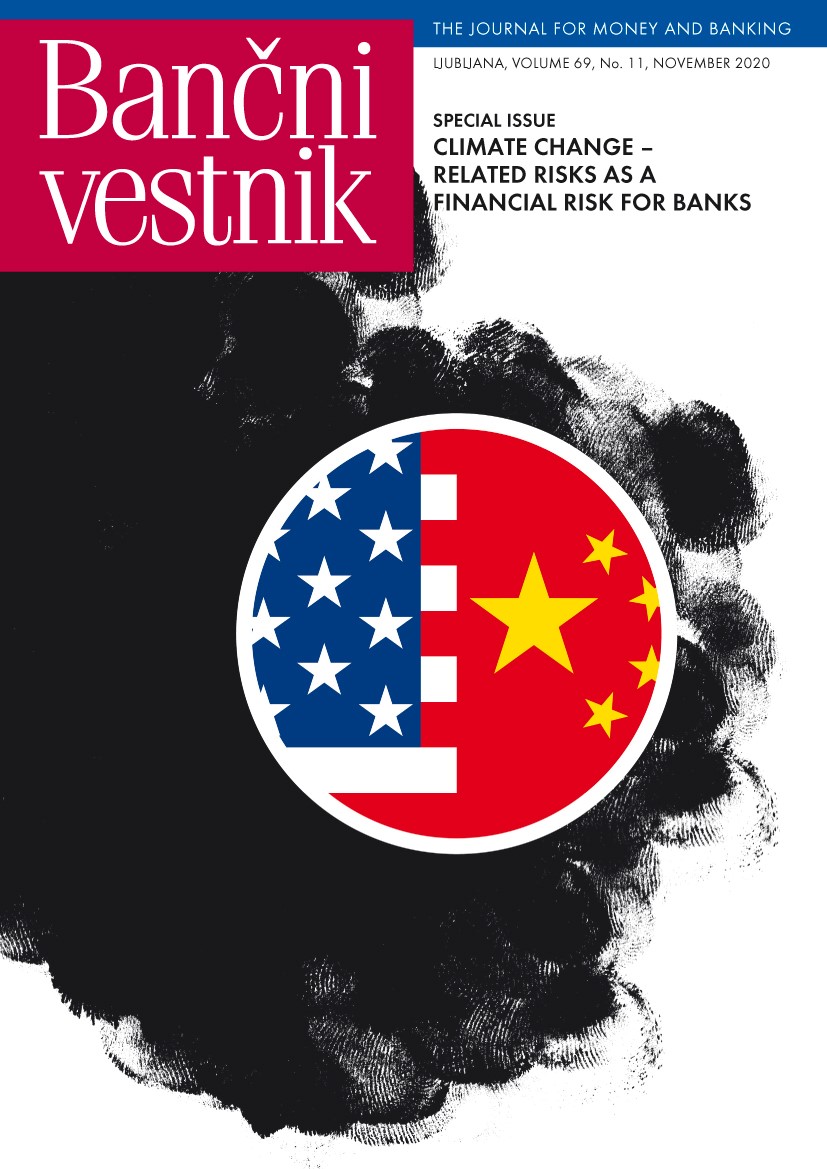 Publisher: 
The Bank Association of Slovenian – GIZ, Ljubljana
Šubičeva 2, SI – 1000 Ljubljana
Tel.: +386 (0)1 24 29 700
Editor-in-Chief:
Mrs. Mateja Lah Novosel
Editorial Board
Dr. Primož Dolenc, Banka Slovenije
Mr. Andrej Lasič, Nova Ljubljanska banka d.d.
Mr. Boštjan Leskovar, SKB banka d.d.
Dr. Damjan Kozamernik, SID banka d.d.
Dr. Vasja Rant, Ekonomska fakulteta, Univerza v Ljubljani
Dr. Igor Stubelj, Fakulteta za management, Univerza na Primorskem
Dr. Marko Košak, Ekonomska fakulteta, Univerza v Ljubljani
Mag. Bojan Ivanc, Gospodarska zbornica Slovenije
Dr. Marko Simoneti, Pravna fakulteta, Univerza v Ljubljani
Ddr. Timotej Jagrič, Ekonomsko – poslovna fakulteta, Univerza v Mariboru
Dr. Matej Drašček, Hranilnica Lon d.d.
International Editorial Board
prof. dr. Saša Žiković, Ekonomska fakulteta, Univerza na Rijeki,
prof. dr. Anita Maček, Institute of banking and insurance industry, Graz, Austria,
prof. dr. Hans Jorg Thieme, Henrich Heine Universitat Dusseldorf,
dr. Matija Lozej, Central bank of Ireland,
dr. Jurij Bajec, Ekonomski institut in Ekonomska fakulteta Beograd,
dr. Milorad Katnić, University Donja Gorica, Montenegro,
dr. Dubravko Radošević, Ekonomski institut Zagreb in Ekonomska fakulteta Zagreb